A Breakup & Divorce Cookbook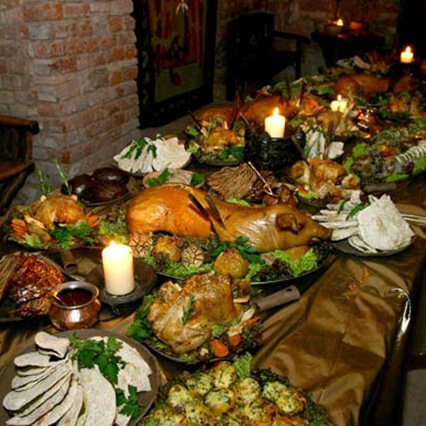 Welcome to the cookbook!
Our recipes are labeled as follows:
(H) Healthy
When your body needs to be nursed.
(C) Comfort
Food for fun.
(E) Entertaining
You're in a funk but peeps food.
If we're in an unhappy relationship or breakup, we need our strength. Physical stamina, but psychic and emotional fortitude, too. Food is good medicine for all. And when I say medicine I don't necessarily mean "healthy." When I'm low, a dose of chocolate heals me much better than kale. In any case, here my Advisors, friends and I offer a few recipes for blue moods.
Have your own awesome recipes? Send them to [email protected]
Aunt Felice's Banana Bread (C) (E)
Ingredients:
3-4 overripe bananas
¼ c. melted butter
1 c. sugar
1 ½ c. flour
1 egg
1 tsp. Baking soda
1 tsp salt
Optional: Chocolate chips to taste (but is chocolate ever really optional?)
Instructions:
Preheat oven to 325 degrees.
Mash bananas with a fork in a bowl.
Stir in remaining ingredients.
Pour into buttered glass loaf pan, 8 ½ x 4 ½ x 2 ½-inch.
Bake 55-60 minutes.
Note: Anytime bananas get overripe, freeze them then defrost them in the microwave for this recipe. The thawed bananas have a lot of liquid that makes the banana bread very moist. It's a great way to now throw out good bananas and always have them available to make banana bread!
—Lisa Hodes
Avocado Toast with Pomegranate Seeds (H) (C) (E)
Serves 8. 
Ingredients:
8 slices bread, lightly toasted
4 ripe avocados, peeled and pits removed
juice of 2 limes
1 cucumber, peeled and finely chopped
salt and pepper to taste
1 cup pomegranate seeds
1 cup fresh tarragon or your favorite fresh herb
Instructions:
Dice avocados and mash with lime juice, salt and pepper.
Fold in chopped cucumber.
Spread seasoned avocado on to toast and top generously with pomegranate seeds and fresh tarragon
—Andy Goldfarb
Baked Salami (C) (E)
Ingredients:
1 large kosher salami
1 large jar duck sauce
Instructions:
Place salami (whole) in casserole dish and pour duck sauce all over.
Bake at 375 degrees for 2-3 hours.
Baste occasionally with duck sauce.
Serve with mustard.
—Lisa Hodes
Breakfast Casserole (C) (E)
Ingredients:
Tater tots
2 cups whole milk
1 lb tube of Jimmy Dean Regular Sausage
4 tbsp flour
1+ cup cheddar cheese
3 scallions
Instructions:
Preheat oven to 375. Butter a 8X11 baking dish. Cover bottom with tater tots. Place in oven to start cooking.
Brown sausage and break up over medium heat. Once it's cooked through, sprinkle flour over top. Cover with milk and stir until thick.
Remove tater tots from oven. Sprinkle with half of the cheese and half of the chopped scallions. Pour sausage mixture over the top. Cover with remainder of cheese and scallions and return to the oven until the whole thing is gooey and bubbly.
Savor the yumminess.
—Kiva Schuler
Butternut Squash Lasagna (H) (C) (E)
Serves 10-12
Ingredients:
1 box lasagna noodles (1 lb, pre-cooked dried if possible)
2 medium-sized butternut squash (roasted, peeled, seeds removed and rough chopped – about 8 cups. or you can buy already prepped at the supermarket)
1 cup fresh sage
2 tbsp honey
1 lb frozen spinach, defrosted and water squeezed out
1 cup mascarpone cheese
3 cups fresh mozzarella cheese, grated
2 cups parmesan cheese, grated (1/2 cup for ricotta mixture, 1-1/2 cups to sprinkle over layers)
2 quarts ricotta cheese (two containers)
1 egg, lightly beaten
2 tsp salt
pepper to taste
Prepare the lasagna:
Preheat oven to 375 degrees.
Roast butternut squash whole for 1 hour or until you can easily pierce with a knife.
Meanwhile, in a mixing bowl combine the ricotta cheese, 1/2 cup parmesan cheese and egg. Set aside.
When squash is cooked, let cool slightly, cut in half horizontally, peel, remove the seeds and roughly chop.
Place squash, mascarpone, sage, honey, salt and pepper in a food processor or blender and pulse, leaving some chunks of squash for texture.
Layer the lasagna:
In a 3 quart or 4.8 quart lasagna pan, make layers of butternut squash puree, spinach, ricotta mixture, parmesan, mozzarella and lasagna sheets until pan is full (3-4 layers). Do not put mozzarella on the top of lasagna until it has baked for 45 minutes covered with aluminum foil. Then add mozzarella and bake uncovered for an additional 15 minutes or until mozzarella is melted and slightly brown.
Let cool for 30 minutes before cutting slices.
Note: You can assemble the lasagna a day ahead and refrigerate, unbaked. Or you can bake, let cool, refrigerate and reheat. Lasagna tastes even better the next day.
—Andy Goldfarb
Chicken Cacciatore (H) (C) (E)
Ingredients:
1 chicken, cut into 1/8's
4 T. olive oil
2 small boxes sliced mushrooms
2 envelopes or cubes beef bouillon (mixed with 1/2 cup water)
Pinch oregano
2 T. Gravy Master
1 large can tomato paste
4 cloves of garlic, mashed
Salt and pepper to taste
Instructions:
In a large skillet over high heat, brown chicken pieces in olive oil.
Remove chicken.
Saute mushrooms. If there's too much oil in the pan, drain some out.
Add bouillon, oregano, gravy master, tomato paste, garlic and salt and pepper. Mix well.
Put chicken back in pan, mix well, cover and simmer for 1 to 1 1/4 hours.
Serve over rice or noodles.
—Lisa Hodes
Jewish Penicillin (aka, Chicken Soup) (H) (C) (E)
Ingredients:
1 whole chicken
1-2 lbs of chicken wings or legs
1 lb carrots
½ lb parsnips
½ lb celery
2 large onions
4 tbsp peppercorns
2 bay leaves
Instructions:
Place everything except ½ the carrots and the wings or legs into a big pot and cover with water. Salt generously. I also appreciate adding the neck and organs for some extra depth of flavor.
Bring to boil then reduce to simmer and cover. Cook for 2 hours. Remove chicken from pot and allow to cool, replacing with legs/wings.
Cook for another 1-2 hours. Drain stock into large bowl, discarding all of the remnants.
Shred cooked chicken, slice remaining carrots. Add back to broth and serve with your favorite accoutrement… Matzo Balls, Egg Noodles and Wild Rice are some of our favs.
Note: Cures everything.
—Kiva Schuler
Cinnamon Carrots (H) (C) (E)
Ingredients:
One bag of carrots
Butter
Cinnamon
Instructions:
Cut up a bag of carrots into bite size chunk.
Place in sauce pan with a ½ stick of butter and cover with water.
Add 1 tbsp of cinnamon.
Cook until water evaporates.
Yummy, comfort-y, sweet tooth snacking… and healthy.
—Kiva Schuler
DoorDash(C) (E)
Ingredients:
One cell phone
The DoorDash app, or equivalent (there are a few)
One credit card
Your finger
Optional: plates and silverware
Instructions:
If you don't already have it, download DoorDash app. Launch the app.
If you don't have one, use your credit card to create a DoorDash account. Include your home address or wherever you want the grub sent to.
Pick a restaurant from the app's big list. Maybe try someplace new. Or maybe just get the same burrito and nachos you get every night. Actually, now that I think about it, I don't really care what you get. You're hungry. You should eat. That's what matters.
Peruse the menus. Place take-out order.
Wait 15-30 minutes, or until the order arrives. It doesn't matter how often you check the time or stare at the app. It doesn't arrive quicker. On the other hand, who knows.
Insert face deep into the take-out order bag. Inhale deeply. Yes! Food!
Decide whether to use your real plates and silverware, or what the heck, just scarf it all down using the plastic utensils and the paper bag that came with it.
Note: Goes well with "Ice cream, from the container." See below.
—Steve Kane
Frosted Flakes with milk and banana (C)
Ingredients:
Frosted Flakes
Milk (any kind)
One ripe banana
Instructions:
Pour Frosted Flakes into a bowl. Do not fill bowl to the brim—you need room for the banana and milk!
Peel banana. Cut away bruised areas and pull off and discard those annoying stringy things, as well as the little stump at the bottom. (Unless you really like those stringy things and the stump, in which case, go ahead and eat them, but I think you're gross.)
Slice banana into round slices approximately ¼" thick.
Place slices onto Frosted Flakes.
Pour in milk. Optional: With your spoon, tap down cereal and banana slices so they get wet with milk.
Note: Some people like to pour on the milk before slicing the banana. This results in a nice, slightly soggier cereal, but requires speedy banana slicing and eating to avoid the mix becoming mush. Unless you like mush. Second note: I find Frosted Flakes to be the quintessential cereal to eat with milk and banana, but heck, it's a free country so, go ahead, go wild, and experiment, say, with Honey Nut Cheerios. Or Captain Crunch. And go ahead and use whole milk. So smooth and rich. And we know now all that stuff about removing fat from our diets is basically bunk. Third note:Tastes just as delicious eaten standing up, watching TV. Just don't drip on your shirt. Anyways, not if you're going to sleep in it. Or at least, not if you're going to sleep in it in the same bed as me. Sour milk smells!
—Steve Kane
Grilled PB and Banana Sandwich (C)
Ingredients:
2 pieces of bread
½ a banana
Peanut butter
Regular butter (the more the better)
Instructions:
Make a PB&B sandwich.
Slather both pieces of bread with butter.
Grill on medium heat until warmed through and browned.
—Kiva Schuler
Ice Cream from the Container (C)
Ingredients:
Any pre-packaged container of ice cream
A spoon
Kitchen rag or paper towels
Instructions:
Open container of ice cream
Use kitchen rag or paper towels to hold ice cream container to keep hand from getting too cold.
Use spoon to eat ice cream directly from container. Optional: For each bite, try to get a good mix of ice cream plus any candy or other chunks in the ice cream.
Use kitchen rag or paper towels to clean your face and any drips on the furniture. Or don't, whatever, just leave it until whenever.
Wrap dirty spoon in kitchen rag or paper towels so it doesn't stick to the carpet, couch or coffee table. Unless you already put the spoon down somewhere, then who cares.
When you're done, put the lid back on whatever ice cream is left and place container in the freezer. Or just leave it out. Maybe you'll eat the whole thing. Taking a brief pause makes you feel less guilty, sometimes. Or maybe not. But if it melts you can always get more. Or just drink it with some ice tomorrow morning for breakfast.
—Steve Kane
Louisa's Kugel (Noodle Pudding) (C) (E)
Serves 12-14
Ingredients:
12-oz bag wide egg noodles
1 container cottage cheese (16 oz)
1 container sour cream (16 oz)
8 oz cream cheese, room temperature
4 eggs, lightly beaten
3/4 cup sugar
1 tsp vanilla
pinch of salt
1 tbsp cinnamon + extra for dusting on top
2 cup raisins, golden or dark
1 cup slivered almonds
1 12-oz jar apricot jam
2 tbsp butter + extra for buttering the pan
Instructions:
Preheat oven to 350º.
Coat 9" x 13" (3-quart) baking dish with butter.
Cook noodles according to package directions. Strain and set aside.
Break eggs into a large bowl and whisk.
Add dairy products to the bowl and mix.
Gently fold in cooked noodles.
Mix in vanilla, sugar and cinnamon.
Fold in raisins.
Pour mixture into baking dish.
In a separate pan, heat apricot jam for 1 minute until the jam melts then pour jam over noodle mixture and spread with a pastry brush.
Sprinkle slivered almonds on top, dust with cinnamon, dot with small pieces of butter, cover with tin foil and bake for 50 minutes.
Uncover and bake for an additional 10 minutes so the top is slightly crunchy.
Let cool slightly as it will be easier to serve.
—Andy Goldfarb
Monte Cristo Sandwich (C)
This delicious concoction takes minutes to prepare, is perfect for breakfast, lunch or dinner, and vies with the Chicken Parmesan Sub for the title of Greatest Comfort Food Sandwich Of All Time.
Ingredients:
ButterEggs
Sliced bread
Milk
Sliced ham
Sliced turkey
Sliced swiss cheese
Powdered sugar or maple syrup (optional)
Instructions:
Make French Toast

Melt butter in a frying pan over low heat
Break eggs into a large bowl, add a little milk and whisk or beat until consistent.
Soak sliced bread in eggs and milk mixture
Fry soaked bread slices in frying pan until golden brown

Place sliced cheese onto golden brown french toast slices and cover frying pan briefly to melt cheese
Remove French Toast slices with melted cheese from frying pan and place, open faced, onto a plate
Place sliced ham and sliced turkey into frying pan to quickly sear and heat up meats
Place meats on open faced French Toast with melted cheese and then close up to form sandwich
Season lightly with powdered sugar (optional)
Serve with maple syrup (optional)
Garnish with a Kosher Dill pickle spear (optional)
—Steve Kane
Pasta Bolognese (C) (E)
Ingredients:
1 lb ground lamb
1 lb ground beef or veal
4 carrots
4 stalks celery
3 cloves garlic
1 red onion
1 1/2 cups good red wine
2 cans peeled plum tomatoes
3 tbsp tomato paste
½ cup whole milk
Pasta of choice
Instructions:
Dice the onion and mince the garlic.
Brown in oil over medium heat for 10 minutes until onions are wilted.
Add wine and allow to almost completely reduce – about 15-20 minutes.
Once sauce has reduced add tomatoes, breaking up with your hands, and their juice to pot.
Add tomato paste and ⅔ cup of water.
Bring to boil and then reduce to simmer.
Cook uncovered for 1 hour.
In a skillet brown meats, while breaking up.
Salt and pepper generously.
Add diced carrots and celery.
Add to tomato sauce and simmer for one more hour.
Add milk and cook 15 more minutes on
Serve over some pasta with grated parmesan.
—Kiva Schuler
Pasta with Butter and Fried Chicken(C) (E)
Ingredients:
Pasta (any kind)
Fully cooked, take-out fried chicken pieces or nuggets
Butter
Salt
Instructions:
Put water and a little salt in a pot.
Boil water.
Cook pasta in boiling water.
While pasta is cooking, shred chicken pieces into small morsels. Include skin but discard bones and cartilage.
Heat chicken morsels in microwave until warm.
When pasta is cooked, drain it in a colander and rinse it with hot water to get rid of stickiness. Rinse the cooking pot with hot water to also clean it of stickiness while keeping the pot hot.
Put generous amount of butter in the still warm pot and place it on low heat on the stove until butter melts.
Put pasta and chicken in the pot.
Stir until everything is mixed well and coated with melted butter.
Just as delicious eaten directly out of the cooking pot. And less cleaning up that way!
—Steve Kane
Pasta with Ragu (C)
Ingredients:
Pasta (any kind)
Jar of Ragu Traditional (the original)
Instructions:
Put water and a little salt in a pot.
Boil water.
Cook pasta in boiling water.
When pasta is cooked, drain it in a colander and rinse it with hot water to get rid of stickiness. Rinse the cooking pot with hot water to also clean it of stickiness while keeping the pot hot.
Put the pasta back in the pot.
Pour the Ragu sauce over the pasta until every piece is lightly coated and there is a little extra on the bottom of the pot.
Stir until everything is mixed well and coated evenly.
Note: My children loved to put "sprinkle cheese" (grated parmesan) on their pasta although I always preferred it without. Second Note: As an option, saute ground beef and add to the sauce prior to pouring over the pasta for variety and to add protein.
—Laura W. Campbell
Swedish Meatballs (H) (C) (E)
Ingredients:
Hamburger
Heinz Chili Sauce
Welch's Grape Jelly
Heinz Ketchup
Instructions:
Mix sauce
Add meatballs
Cook for one hour
Simmer for one hour
—Andy Goldfarb
Tacos (C) (E)
Ingredients:
Old El Paso Taco Kit
Ground beef
Ortega Taco Sauce
Head of Iceberg Lettuce
Tomatoes
Bag of Grated Mexican Four Cheeses
Instructions:
Saute ground beef with the taco seasoning packet from the taco kit
While meat is sauteing, cut up both the iceberg lettuce and the tomatoes, put each in its own bowl
Put the grated cheese in a bowl
Place taco shells on a separate plate
When meat is cooked thoroughly, place in a large bowl
Place all of the bowls in a row on the counter like an assembly line
Note: Allow the kids to work their way down the line making their tacos in the way that they like. Second Note: This is a messy meal so allow ample time for cleaning up.
—Laura W. Campbell
Thousand Island Taco Salad (H) (E)
Ingredients:
1 head iceberg lettuce
2 avocados
1 can chickpeas
1 can small black olives
1 lb ground turkey or beef
1 package taco seasoning
1 bottle thousand island dressing
Shredded cheddar cheese
Corn chips
Instructions:
Chop lettuce and avocados and put in large salad bowl.
Drain chicks and olives and add to salad.
Brown ground meat and follow instructions on seasoning packet.
Remove from heat and allow to cool for a few minutes.
Add bag of cheddar to top of salad and poor meat mixture over the top.
Add about ½ bottle of thousand island and toss until gooey.
Serve with crumbled corn chips over the top.
Note: Really amazing in the microwave on day 2. And 3.
—Kiva Schuler
Nestle Toll House Chocolate Chip Cookies (C) (E)
I baked these cookies every Wednesday when my children arrived back at my house for my custodial days. I always loved having the house smell like fresh baked cookies when they walked in the door.
Ingredients:
Nestle Toll House Chocolate Chip Cookie Dough
Instructions:
Identify how many cookies you want to make, this can be anywhere from 2 – 24.
Determine how big you would like the cookies to be.
Scoop or slice cookie dough into your clean hands and mold into imperfect round balls.
Place 1-2 inches apart on the cookie sheet to allow for spreading when baked.
Bake at 350 for anywhere between 10 – 13 minutes depending on how crisp or doughy you would like them.
Note: Nestle now makes this mouthwatering cookie dough available in the old fashioned cylindrical tube, a flat bar with perforated squares and or a tub. All varieties work perfectly. Second note: The dough is easier to work with when it is thawed but not quite room temperature. If it gets too warm it will begin sticking to your hands and become a pain in the ass to work with. Third note: You can microwave cookies if you are only making 1 or 2 of them, but they will not get crispy at all. It will be like eating warm dough.
—Laura W. Campbell
Turkey Meatloaf (H) (C) (E)
Ingredients:
Package of 95% lean ground turkey
One full egg and one egg white
Ketchup
Salsa
Breadcrumbs
Mrs. Dash seasoning
Instructions:
Place the ground turkey in a large bowl.
Add full egg and egg white.
Add ketchup and salsa till the consistency of the mixture is soft but not too wet (about ½ cup of each).
Add breadcrumbs till the mixture is malleable and almost holds its shape.
Place the mixture into a bread/loaf pan.
Bake in 350 oven for about an hour or until cooked through.
Awesome served with mashed potatoes and peas.
—Laura W. Campbell
Vegetable Puree (H) (E)
Serves 6.
Ingredients:
2 1/2 pounds fresh cauliflower florets, chopped
5 garlic cloves, sliced
1 ⅔ cups chicken broth
2 ½ teaspoons kosher salt
8 tablespoons almond milk
5 teaspoons butter
Instructions:
Place the cauliflower, garlic, chicken broth and salt in a large pot.
Bring to a boil.
Cover and reduce to medium heat. Simmer about 10 minutes or until the cauliflower is very tender.
Use an emulsion blender or transfer the pot contents to the bowl of a food processor fitted with a metal blade.
Add the almond milk and butter.
Process until smooth.
Season with black pepper.
—Lisa Hodes
Vegetarian Chili (H) (C) (E)
Serves 6-8.
Ingredients:
3/4 c bulgar wheat
2 c. tomato juice
1/2 c. olive oil
2 c. chopped onion
3/4 c. chopped celery
1 c. chopped carrots
1 c. chopped green pepper
2 c. chopped mushrooms
2 c. chopped tomatoes (canned ok)
20 oz. can kidney beans
1 tsp. minced garlic
1/4 tsp. crushed red pepper
1 T. ground cumin
3 T. green chilies (can)
3 tsp. dried basil
3 tsp. oregano
1 or 2 T. chile power (to taste)
1 tsp. salt
2 T. lemon
3 T. Worcestershire sauce
1/2 tsp. Tabasco
1/4 c. dry white wine
Instructions:
Combine bulgar wheat and tomato juice and let soak.
In a large pot or skillet, heat olive oil over high heat, add onions, celery, green pepper, carrots, garlic and mushrooms.
Cook and stir 1-2 minutes.
Add bulgar wheat, tomato juice and all other ingredients.
Bring to a boil, reduce to a simmer and cook 30 minutes, uncovered.
Serve with rice.
Note: Not only delicious, but also therapeutic: Lots of chopping!
—Lisa Hodes